Music, web shows, guide books, etc ... all for free!
This month's post is for the benefit of anyone who spent a little too much cash over Christmas and New Year. All the items featured in this post are free!
1) Free web series:
Pioneer One was funded entirely through donations.
Pioneer One is a cool web series which was financed via crowdfunding and won the Best Drama Pilot at the 2010 New York Television Festival. It's distributed with a creative commons licence, and each episode is available free (via torrents) from the VODO website:
This is the blurb:
"A mysterious spaceship has entered Earth's atmosphere. A US Department of Homeland Security investigation has uncovered a live human being in a Soviet space suit in an unstable condition. A note in Russian, found at the crash site, claims the man is the child of cosmonauts living at a base on Mars."
It's a very intriguing show and as more of the plot is revealed, it has you asking further questions. The first episode was filmed with a budget of $6,000, so don't go expecting Jurassic Park levels of special effects, but overall Pioneer One proves that you can produce a very good show on a very limited budget.
Click the link below to go to the Pioneer One page on the VODO website.
Pioneer One
Click the 'Watch Now' button, then choose the episode you want to start downloading (I recommend starting with episode 1).
2) Free music:
For a limited time, The Chemical Brothers are offering a free extended holiday mix called 'When You Start Hating You're Out Of Control' which you can download from their website. The download includes mixes of some of their more chilled out tracks, such as 'Asleep From Day' and 'Dream On' from their Surrender album, and 'Where Do I Begin' from their 'Dig Your Own Hole' album. You can find out more about the download here:
The Chemical Brothers website
The 'When You Start Hating You're Out Of Control' mix is available to anyone who subscribes via email to The Chemical Brothers' website, and you can find the download page at the following link:
Chemical Brothers Holiday Mix
3) Free images:
Anyone who runs a blog or website, or any designers, may be interested in checking out the Unsplash website. They offer ten free images every ten days and each image comes with a 'do what you want' licence. You can also download any of their previous images, and there's now a pretty extensive back catalogue of images.
The unsplash images are high resolution professional photos, and are all very high quality. They generally capture scenery, photogenic moments or scenes of everyday life.
To give you an example of the type of the images on offer, here's an iPhone wallpaper created with one of the images from the Unsplash website:
iPhone Wallpaper - 'Everything Will Be Okay In The End'
Check out the Unsplash website at the following link:
Unsplash website
4) Pay what you want comics:
The Private Eye by Vaughan, Martin and Vicente.
The Private Eye is a sci-fi comic series set in the year 2076 in a time when the internet is no more and people are extremely protective of their identities, to the point of wearing masks in public. It follows the adventures of private detective
Patrick Immelman
, and is written by Bryan K.Vaughan (writer and co-creator of the excellent Saga), and illustrated by Marcos Martin.
Strictly speaking, The Private Eye is a 'pay what you want' comic, rather than a free comic, but you choose the price you want to pay, so if you want to download it for free then you can. However, if everyone did this then the creators wouldn't really have much incentive to complete the series, so if you're undecided about what to pay then one idea is to download the first issue for free, and if you enjoy it then you may wish to donate for future issues. Again though, it's available as 'pay what you want', so pay what you want!
The Private Eye is self-published through Bryan K.Vaughan and Marcos Martin's panel syndicate website, and is almost at the end of its ten issue run:
Download The Private Eye from panelsyndicate.com
5) Free guide book:
The Full Moon Party Guide Book
is a 'Woaba Blog' publication.
This next one will be of interest to any party loving backpackers heading for South East Asia and specifically Thailand. It's a free guide book all about the famous Full Moon Party held every full moon on the tropical island of Koh Pha Ngan. Between ten and fourty thousand party lovers attend every month, and the Full Moon Party Guide Book is an in-depth guide to Thailand's biggest and most famous beach party.
The guide book features sections on hotels, hostels, bars, restaurants, things to do, getting there and away, and much more. It's available in pdf (laptop, PC and tablet), mobi (kindle, kindle app) and azw3 (kindle fire), and you can find out more at the Full Moon Party Guide Book blog:
The Full Moon Party Guide Book blog
Download the Full Moon Party Guide Book from Noisetrade or Payhip:
The Full Moon Party Guide Book - download from Payhip
The Full Moon Party Guide Book - download from Noisetrade
6) Free charity: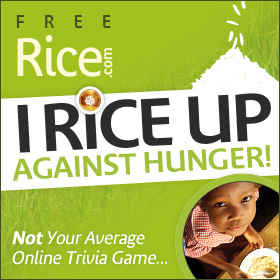 To round things off, this last one is a chance to donate to charity for free. It's the website freerice.com which is a cool site where you answer questions and for every question you get right they donate ten grains of rice to the World Food Programme (paid for by sponsors). At first glance ten grains of rice doesn't sound like much, but it doesn't take very long to answer a question, so it all adds up pretty quickly.
In fact since the website started in 2007 over 97 billion grains of rice have been donated! You can find out more at the Freerice website:
Freerice.com
. . . . . . . .
If you know of any other cool music, books, web shows, comics, etc, which are free to download, then feel free to leave a comment with the link. N.B. Any links to non-free stuff will be deleted.
N.B. All promotional images used on this blog remain the copyright of the respective artists/publishers and are used in accordance with 'Fair Use' legislation for review purposes.